In October 2008, Cornesy's All Star Rock Band was privileged to be selected by the Australian Defence Force to travel to Honiara to perform for the Australians serving as part of the Regional Assistance Mission to Solomon Islands (RAMSI).
The Tour de Force to the Solomon Islands was an amazing experience for the band, giving us an opportunity to give something back to the truly incredible Australian men and women who choose to serve their country in this way.
It was an honour for the band – plus our regular dancers Emma Allen and Tina-Marie Carr - to join Gold Coast comedian Lindsay Webb and Sydney band Inakin in the touring party.
And for Graham Cornes and Graham Lane – who both served in Vietnam and recalled how important the visiting performers were for morale – this was an opportunity for them to bring a little cheer to their comrades in arms.
From the Mission's website, RAMSI is:
"... a partnership between the people and Government of the Solomon Islands and fifteen contributing nations of the Pacific Region. RAMSI is helping the Solomon Islands to lay the foundations of long-term stability, security, and prosperity – through support for improved law, justice and security ..."
Australia plays the lead role in the Mission, with around 400 Australian Federal Police personnel and Australia Army Reservists based in and around Honiara. A couple of times a year, the Forces Entertainment branch of the Australian Defence Force organises entertainment tours to Australia's international operational zones such as the Solomon Islands, East Timor, and Afghanistan.
The shows are a chance for our Aussie personnel to relax for a couple of hours, forget about life in their operational zone, and enjoy a small slice of home. Our touring party played four thoroughly enjoyable shows, including a concert in central Honiara attended by hundreds of members of the local community.
The warmth and hospitality of all the Federal Police and Army Reserve people based in Honiara was humbling, and we sincerely thank everyone who took care of us during our all-too-brief stay.
Everyone in the band has returned with new friends and great memories. And watch out for Lindsay and the boys from Inakin. Catch their shows if they bring their great acts to Adelaide. You won't be disappointed.
Click on the pictures below to read the Adelaide Advertiser articles on the Solomon Islands tour: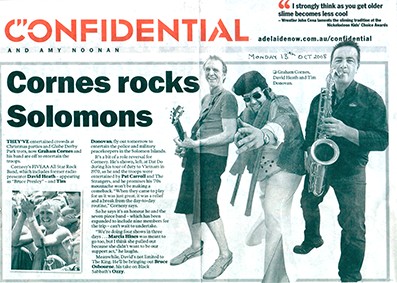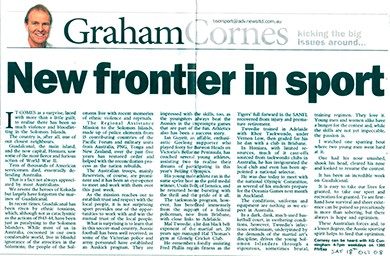 Also check out the official thanks we received on our return: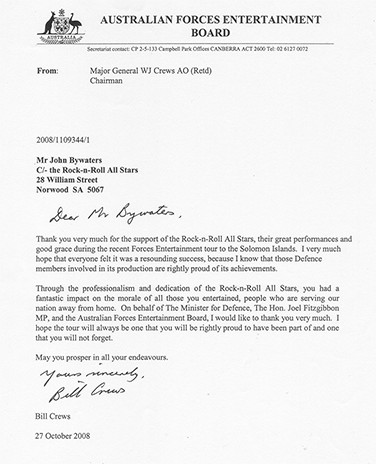 Finally, here's a portrait of our dress rehearsal: